Cool room panels are also called cold room panels in which polyurethane foam are been sandwiched between the two outer covers. OnlyKem CFC free cool room panels are commonly used for cold room construction due to its advantageous mechanical, chemical, biological and moisture properties, Our high quality coolroom panels are excellent to prevent thermal conductivity, restrain growth of fungi, keep out moisture ingress. Onlykem is the important cool room panels manufacturers in China. 
OnlyKem CFC Free Cool Room Panels specifications
| NO | Item | Specifications |
| --- | --- | --- |
|  1 | Density of panel |  42kg/m³ |
|  2 |  Thickness of PU panel |  75mm,100mm, 120mm,150mm,180mm,200mm optional |
|  3 |  PU Panel Connection |  Cam-lock connection |
|  4 | Surface steel |  Color galvanized steel or stainless steel |
|  5 |  Thickness of color steel |  0.426mm,0.45mm,0.5mm |
|  6 |  Color |  White(Optional) |
|  7 | Fire resistance grade |   B1/B2 |
|  8 | Foam time |  30-40minutes |
| 9 |  Insulation material |  polyurethane(CFC free) |
Cool Room Panels Production Process
The main cool room panels production process includes 6 steps.
Step 1, put the bottom steel plate, the support, the cam-lock in sequence.
Step 2,  put the top steel plate and fix them together.
Step 3,  put the insulation (polyurethane) material into this outer casing and then waiting the material to be frozen.
Step 4,  PU panel polishing.
Step 5,   Film protection and customized package.
Step 6, Uploading and transporting.
All our cold room panels production process are finished in the production line.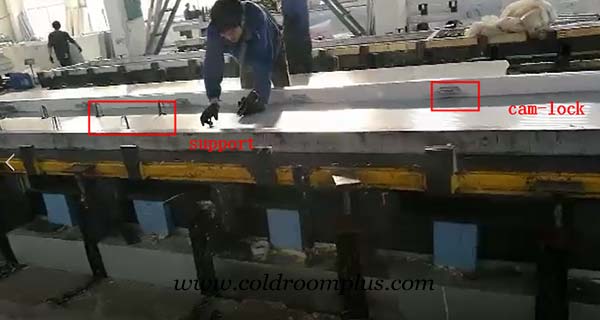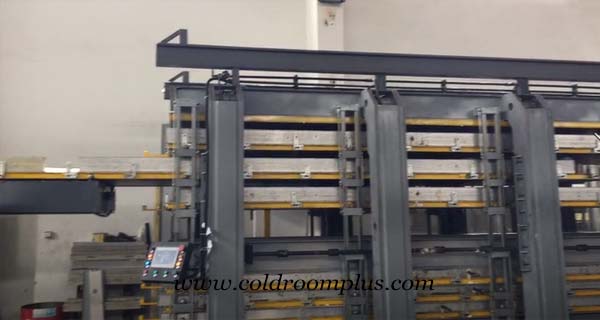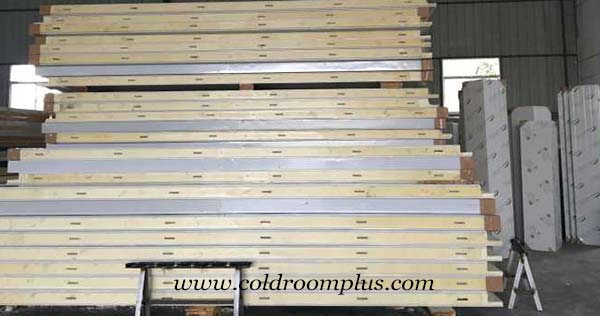 Cool Room Panels Production Fatures
Lightweight and modularized.

High mechanical durability.

Less construction cost.

Perfect isolation attributes.

Good thermal preservation.

Water proof, sound proof.

Energy saving and fire resisting.

Competitive in price.

The coated layers are available in profile with zinc coated, galvanized steel, embossed aluminum and stainless steel etc.

The EC/USDA international hygiene standards.
OnlyKem Pu Panel factory is equipped with automatic production lines. We had 12 years of experiences of manufacturing PU Panels with daily output up to 3,000 square meters.  Welcome to visit our factory.
About OnlyKem
OnlyKem Technology Co., Ltd is one of the leading cold room and freezer room designer and manufacturer in China, who has more than 10 years industrial experience. We had provided many types of effective and states of the cold room and key parts to over 36 countries. We are not only manufacturing best quality cold room products but also providing professional cold room and key parts design and installation service. OEM, ODM, custom design and fabrication are also available.
If you have any questions or inquiries,  please contact us at sale@coldroomplus.com we will reply as soon as possible