Cold Room Swing Door is the legend door for isolating certain space between two different temperatures when environmental control is required.  The cold room swing door is often used in the pre cooling room which can open and close with its connecting hinges which can return the primary place and stop on the center position of the door frame.  The sealing strips around the door can combine with door frame tightly when the door closed. The cold room swing door can reduce the energy consumption and improve the quality of the cold stored products. OnlyKem swing doors are designed and manufactured with the latest technology, finest materials and qualified features to provide maximum thermal separation, flexible switches and longer service life.
OnlyKem single panel and double panel doors are suitable for both interior and exterior applications,  they are made with galvanized steel sheet, optional aluminum sheet or stainless steel sheet and CFC-Free foamed-in-place polyurethane core. Some of them are equipped with sensor for open and close automatically.  Customized size, ODM, OEM are available.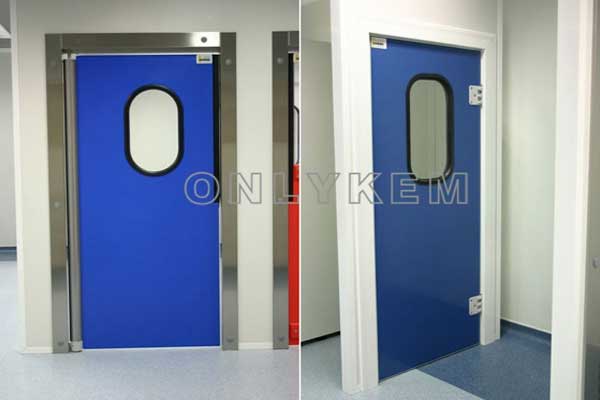 Features of Cold Room Swing Door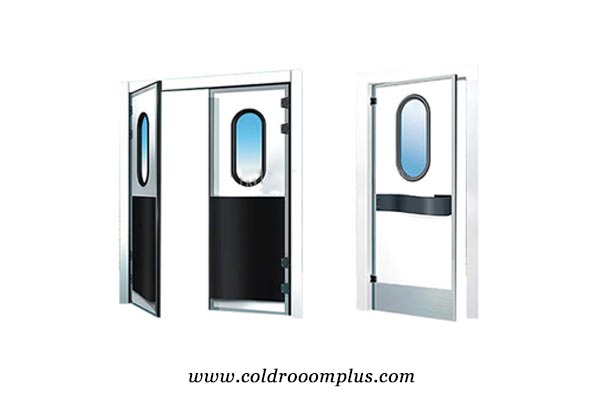 Custom-made and light weight.

Safety lockable release handles.

A

vailable in all sizes with standard, classic or heavy duty hinges.

High heat and cold resistant standard.

Better airtight performance.

Door heater wire.

Stainless steel cladding in various grades.

S

lam-on glass doors for cold and freezer rooms.

G

lass doors for cold and freezer rooms.

Durable hardware and attractive hinges.
Applications of Cold Room Swing Door
Cold Room Swing Doors are commonly used for pre cooling room before the walk in cold room, freezer room, blast freezer room to reduce the temperature difference. The cold rooms with swing door are widely used in grape, apple, and milk factory, slaughter factory, supermarkets and food industry like food shops, restaurants, catering unit, bakeries and ice-cream parlors, hotels.