Seafood cold storage warehouse is the widely used cold storage room to keep seafood in fresh condition.  Seafood cold storage warehouse becomes very popular in around the seaside Philippine nowadays. Philippine is our traditional cold room market, we have built  more than 10 sets large seafood cold storage warehouse projects, and our customers cover fishery, coffee and poultry business, etc. The first set seafood cold storage warehouse has been installed in 2010, and it has been always running smoothly until now.  Generally speaking, one complete production line for seafood cold storage warehouse should include working area, loading bay, freezer room, blast freezer, prepare room, anteroom, etc. For one smooth flow, the fresh seafood is received in loading bay, then put into prepare cold  room or working cold room to put down the temperature, then put in blast freezer for quick freeze, finally put it into freezer room for a long time storage .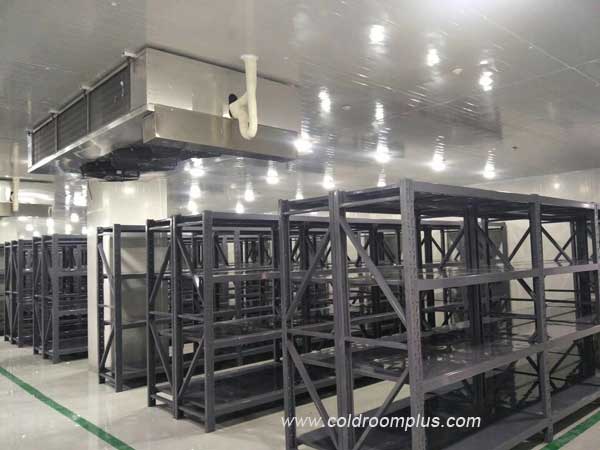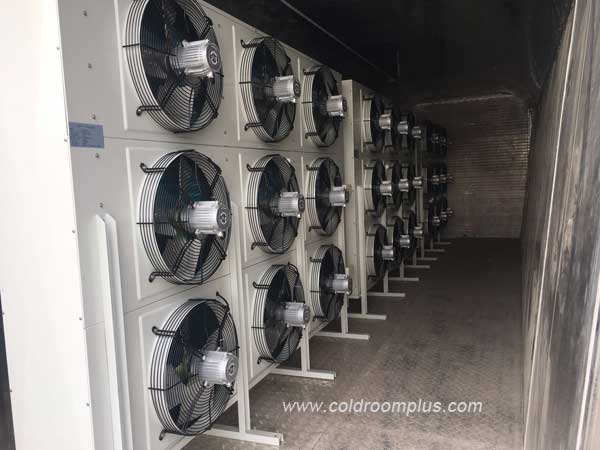 Characteristics of Seafood cold storage warehouse
Large working area 。
It will release acid and other corrosive substances when processing seafood, the seafood cold storage warehouse should have high request for inside PU panels and evaporator. In this situation, we use stainless steel for inside pu panels and the cover for evaporator; for fins of evaporator, we use hydrophilic aluminum foil (blue color) which has anti-corrosion effect.
Another point is that people work inside. The evaporator air flow must be softly blow out in order to protect people from strong wind blowing directly. We will use dual throw model (SDL series) evaporator for working area. SDL series seafood cold storage warehouse is used in food process workshop, the temperature is above +2℃.
Blast freezer for seafood cold storage warehouse
In order to keep the good taste and keep in a long time storage, fresh seafood should be quick freezed in blast freezer first before putting into the freezer storage, the core temperature  can become -18 ℃ after 5-8 hours.
Normally, blast freezer dimensions will be small size, we will use land type evaporator. This design will save some space and make the air flow more balance.
Keeping freezer for seafood cold storage warehouse
After quick freezing in blast freezer, it will be stored under -20℃ for a long time.
New design with our engineer, Europe style color with strong tunnel fans, large air flow.
Anti-corrosion fins with blue color .
41mm wall thickness for coppoer pipes.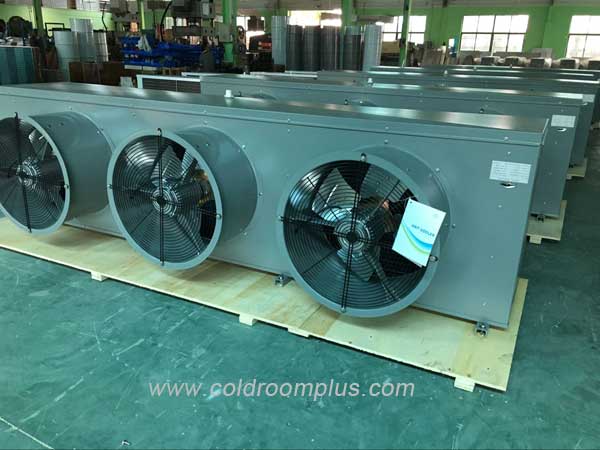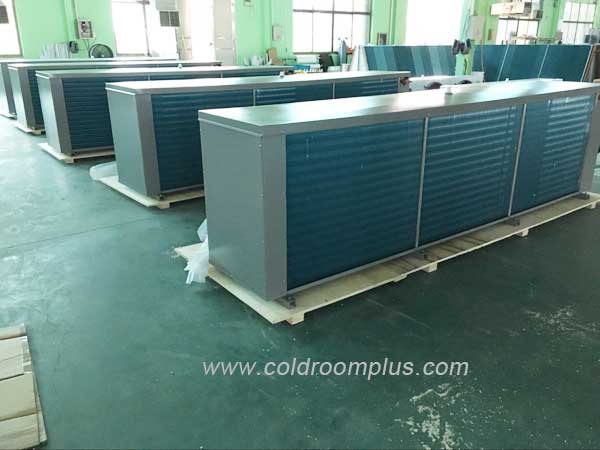 Rack unit of the seafood cold storage warehouse

Known that poor water quality in Philippines, evaporative condenser is not very suitable for this environment using, so we use the air cooled model. Multiple units can use a siphon device to simplify the system design.
Thermosiphon refrigeration cycle (also known as heat circulation refrigeration cycle) is used in screw compression refrigeration system which is most suitable for the system with poor water quality. Its characteristics is small size and reliable oil cooling. The oil temperature after cooling is generally in 10 ℃to 20 ℃ higher than the condensing temperature. Compared with water cooling, no cooling water is needed and water system is simplified; there is no problem of heat exchanger tube scaling to affect the heat transfer of oil cooler, and the cooling efficiency can be improved; there is no influence on the exhaust volume and power consumption of the compressor.
To sum up, thermosiphon refrigeration cycle is a developed energy-saving refrigeration system for cooling refrigerating oil recently. At present, many foreign countries have adopted it.
PLC system is easy to debugger and maintain.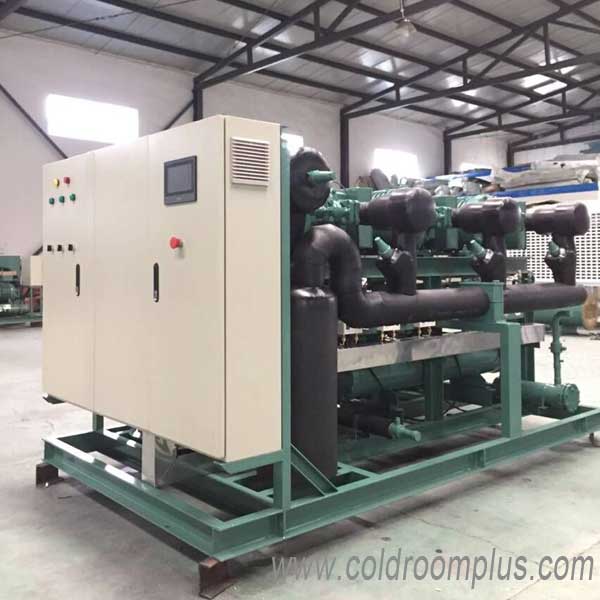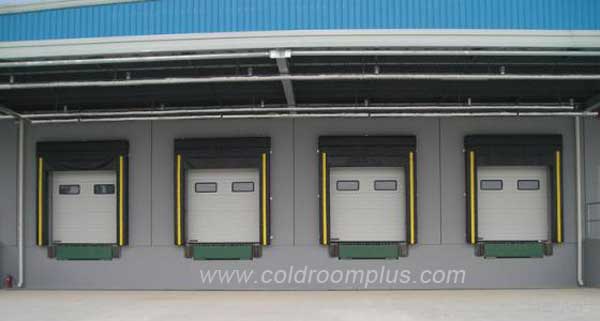 Loading bay of seafood cold storage warehouse
Mainly used to receive and delivery the seafood, it use roll up door that can connect with shipping truck or container .
For one complete roll up door, it  includes door body for lifting platform and edge package.
Usually in +8℃room temperature.
Door size and lifting platform should depend on the truck or container size to design.
For basic cement platform building, it should depend on the height of shipping truck .
For large seafood cold storage warehouse project, there are spare parts for seafood cold storage warehouse which need to back up, it includes compressor, fan motor for evaporator, fan motor for condenser, heater,PLC system and etc.
OnlyKem Technology had been specializing in delivering turnkey cold room solutions to worldwide customers for 15 years. We had provided many types of effective and states of the art Cold Storage Warehouses and freezer rooms to over 45 countries. Our customers are from Swiss, Sweden, Australia, USA, Canada, New Zealand, Japan, Pakistan, Spain, India, Malaysia, Singapore, Malaysia, Philippines, South Africa, Argentina, Indonesia, Kenya, Algeria, Ghana, Guyana, Mongolia, Chile, Peru, Dubai, Poland, Mexico, Brazil, Lebanon, Thailand, Kazakhstan, Turkmenistan, Bangladesh, Colombia, Bahrain, and so on. The following are some of the successful freezer room projects.