Spiral freezer is also called air blast freezer, IQF or tunnel freezer, it is different from ordinary cold storage rooms. Spiral freezer is mainly used to freeze a large number of content at short time. It can maintain the high quality of products, keep product's texture, moisture and flavor throughout the entire freezing process. There are typically 3 main blast freezer models: batch style freezer, tunnel freezer and spiral freezer models which are most used in the food industry.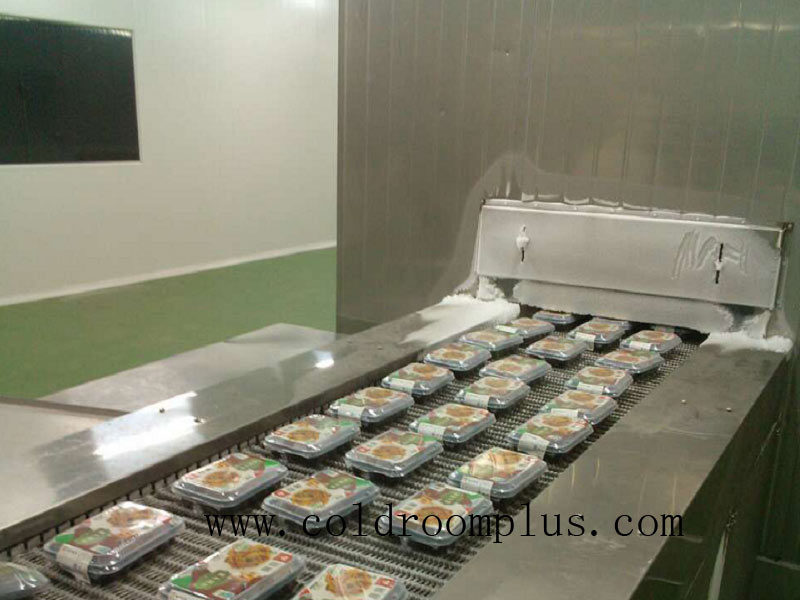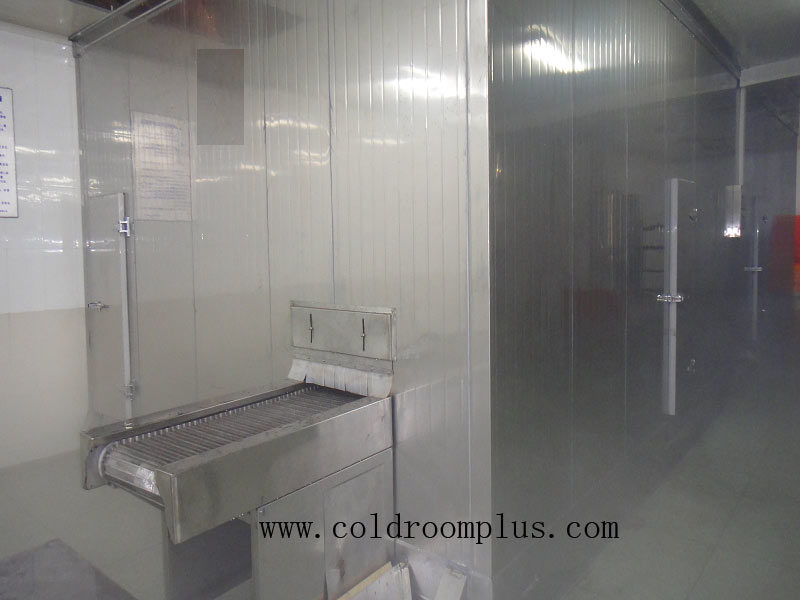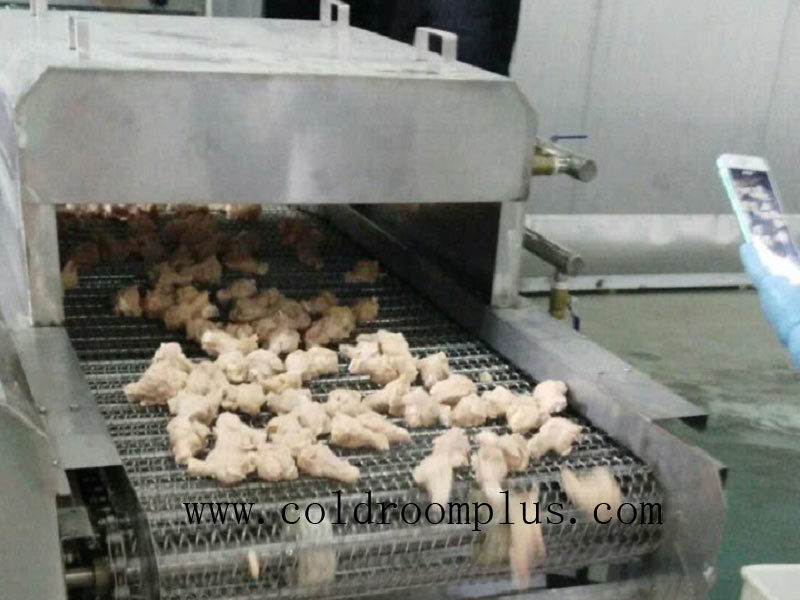 Tunnel freezers have been used in large scale production lines for decades. The base design of the air based tunnel freezer has stayed, for the most part, un-changed. With the main concept of it still being inputting the product in one side and extracting the frozen product at the end. This process enables enterprises to freeze continuously for a long time. Compared with conventional batch freezing, the whole process uses less labor.
Features of Spiral Freezer
The 360° freezing ensures that the entire surface of the content will be frozen in a faster and more effective way.
The frozen contents will maintain the original freshness, texture and flavor of the products frozen in the spiral freezer every time.
No ice build up for continuous use and easy clean up process.
Continuous freezing.
Our spiral freezer allows customization.
The following are the specifications of 1000 kg/h spiral freezer for baking products (fresh or standard baking products).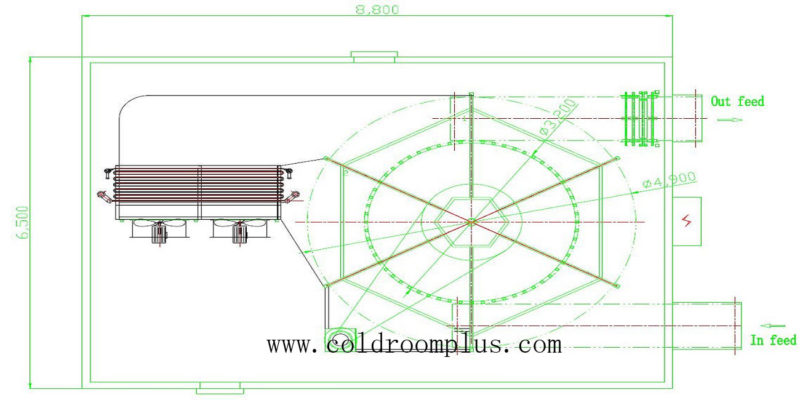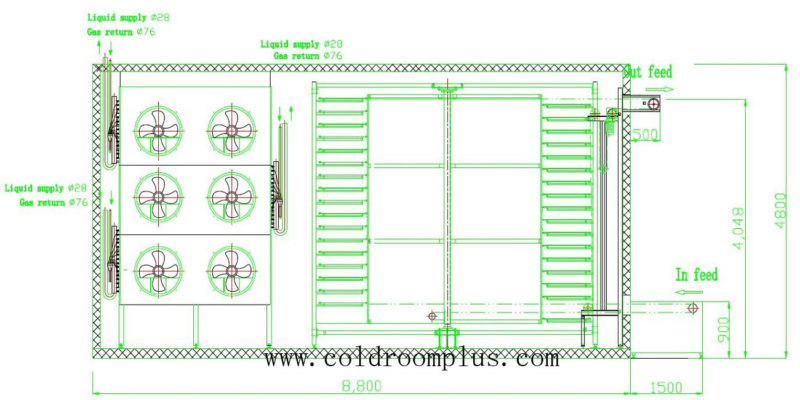 Specification of Spiral Freezer
Belt width: 850 mm, effective width: 780 mm
Layer: 17, height of each layer: 200 mm
Spiral diameter: 3200 mm
Freezer room temperature: -35℃
In feed temperature: +15°C
Core temperature of out feed: -18℃
Frozen time: 30-90 Min
Cooling capacity: 130 Kw(-42℃/+35℃)
Refrigerant: R404A
Parameters of Spiral Freezer
Conveyor belt width: 850 mm, effective width: 780 mm
Material: SUS 304 spring hard wire 1.5 mm
Wear rod: Plunger 5 mm, cap bead hot press forming, fixed by welding method
Conveyor belt link: The thickness of the links on both sides is 3 mm, and the left and right baffles are 15 mm high. SUS 304
Conveyor belt mesh: The center distance of the mesh is 9 mm; Can be placed directly on the mesh belt to freeze
Spiral layers: 17 layers; Height between layers: 200 mm (net height 160 mm)
In feed and out feed time: 30-90 min
Conveyor belt moving: Chain drive, frequency control
Feed rack:  In feed 1.5 m; Out feed 0.5 m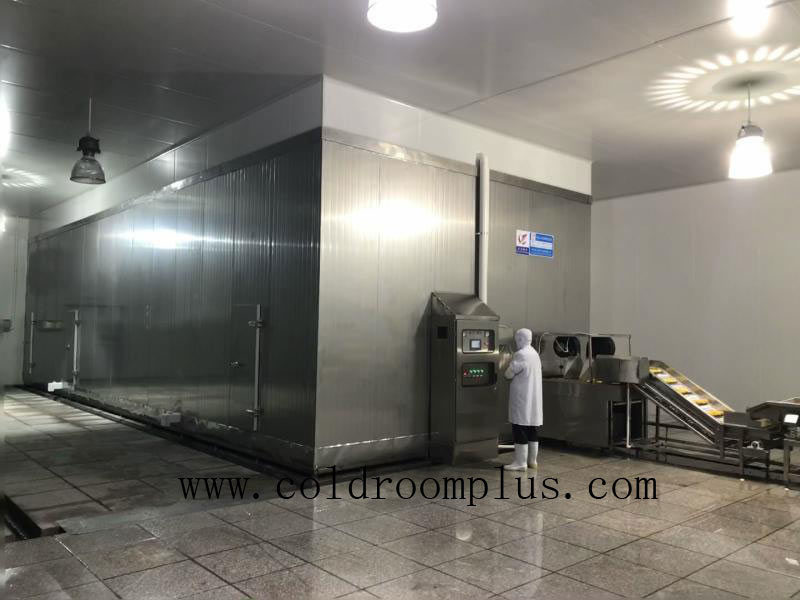 You could store seasonal items year round with new freezing technologies, it gives you the opportunity to expand all parts of your business into new markets and increase production without worrying about increased inventory waste. The frozen product will retain its original flavor and texture throughout the storage period, whether for one month or one year.
With spiral freezing technology, you could freeze most of the products while maintaining their original freshness. With our screw and tunnel chiller production lines, you will be able to make new product lines to store longer, to reduce inventory shortages and waste.
We would like to provide you with more details about our spiral freezers, tunnel freezers, cold rooms with condensing unit, unit cooler or other cooling systems, that is why we encourage you to contact us at any time.