Vegetable cold rooms are popular in some hot area, such as Southeast Asian countries, recently we just completed cold rooms project in Singapore, cold rooms ware used to keep vegetables for some days after processing and packed, then customer exports the vegetables to Japan or other countries. Our cold rooms could help customer achieve business income, hope you will be our next business partner in refrigeration line! Double win will be better!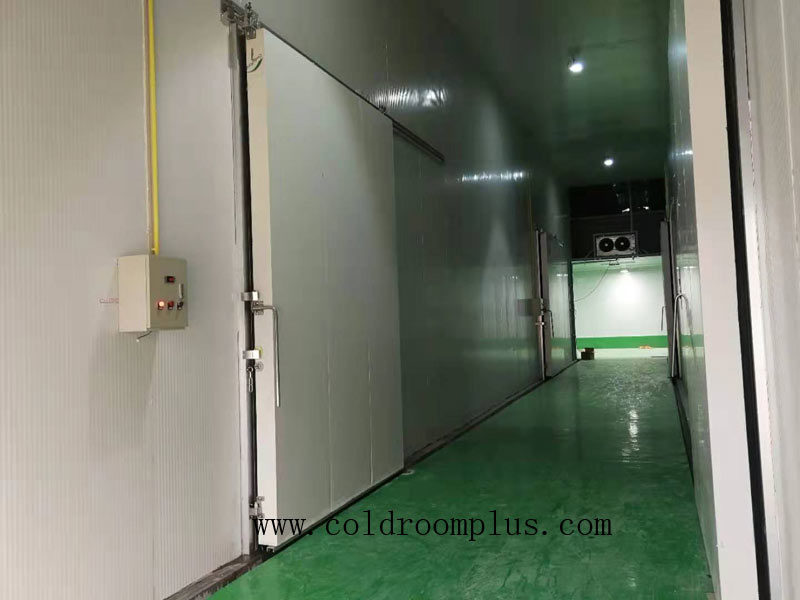 Overview of Cold Room Project
Vegetables Processing Factory
Customer's company major in vegetables planting and exporting, they have their own plant area, after harvest of vegetables, they process them and export to other countries. This factory includes some sectors as follows:
Tunnel freezer: it is used for fast freezing vegetables in very short time, it can keep high quality of vegetables.
Processing room: people mainly process and pack vegetables there.
Cold rooms: after packed the vegetables to be small boxes, keep those boxes in our cold rooms for some days, lastly customer exports them to other countries.
Cold Room
Quantity: six cold rooms, each three cold rooms connected together, total two lines cold rooms.
Dimension: each cold room: 12 m*9 m*6 m
Temperature: -20℃, keep frozen vegetables
Floor system: under cement, put XPS insulation panels, it achieved good insulation; Under floor insulation panels, put ventilation pipes, it could avoid frost in floor and prolong the lifetime; On the surface of cement, customer put epoxy resin layer, it is easy for cleaning, water-proof, and friction resistant.
PU Panel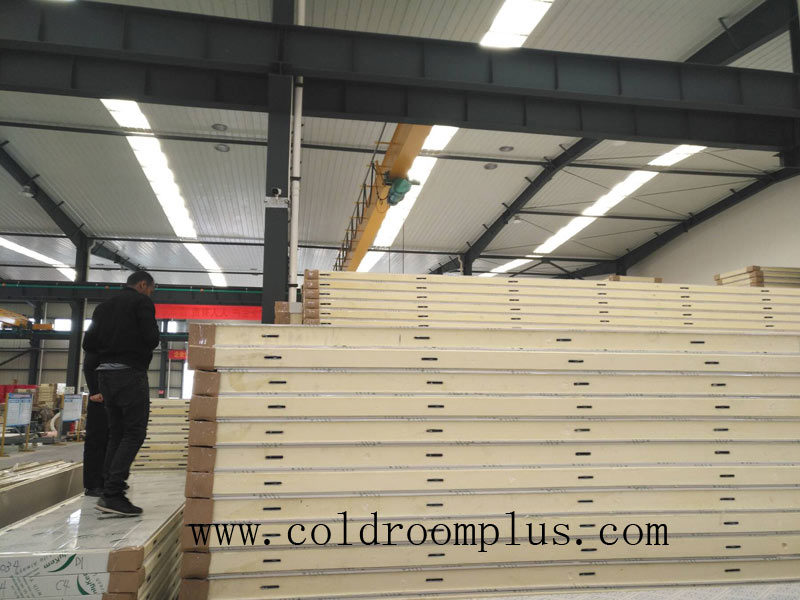 Raw materials of panels: CFC-Free polyurethane panels, we already upgraded new raw materials, to meet more environment friendly standard, besides, it is also very clean to keep foods, like the vegetables.
PU panel thickness: 150 mm. We choose this thickness, because it is very hot ambient temperature in summer in Singapore, this thickness can reduce losing cold, in other words, it can save power consumption cost for customer.
Density: 44 kg/m3. Around this density, insulation is best.
Assemble of PU panels: cam-lock connections. Panels are marked with numbers, our engineer designs installation drawing with same numbers for customer, it is simple installation.
Sliding Doors
Type: manual sliding doors
Dimension: 2.5 m(width)*2.5 m(height), it is enough space to enter forklift.
Door heater: included, anti-frost.
Door accessories: door handle, locks, slide racks, door opener, escape device are stainless steel; Door frame, slide rails are aluminum.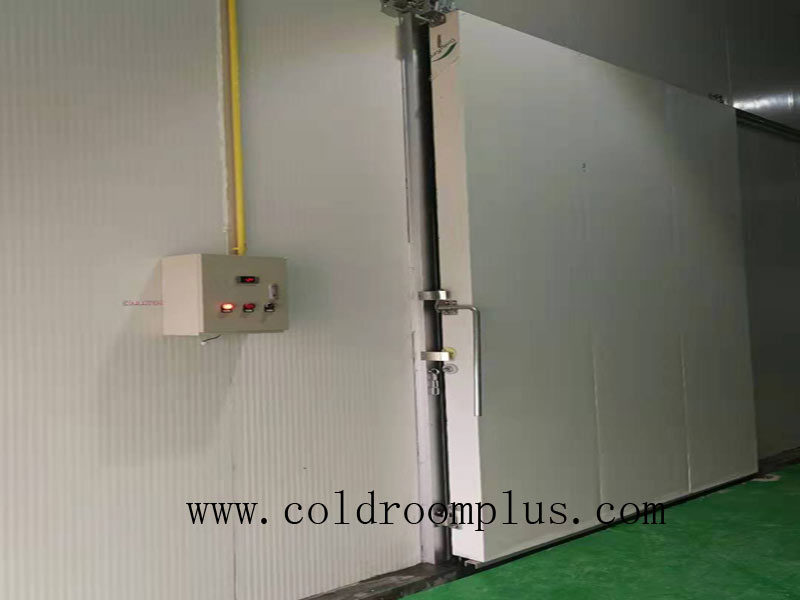 Evaporating Cooled Unit
From the feedback of our Singapore customer, it is very high ambient temperature in Summer, it can even reach 40℃, if we still choose air cooled unit, air is hot, it couldn't be good heat exchange medium, so our engineer designed evaporating cooled condensing unit for them.
Good heat exchange performance with water
Easy and realizable on-line maintenance
Small floor space and low investment
Easy transportation and installation
Low operating cost and energy saving
Low fault rate
Slope collecting basin with convenient clean out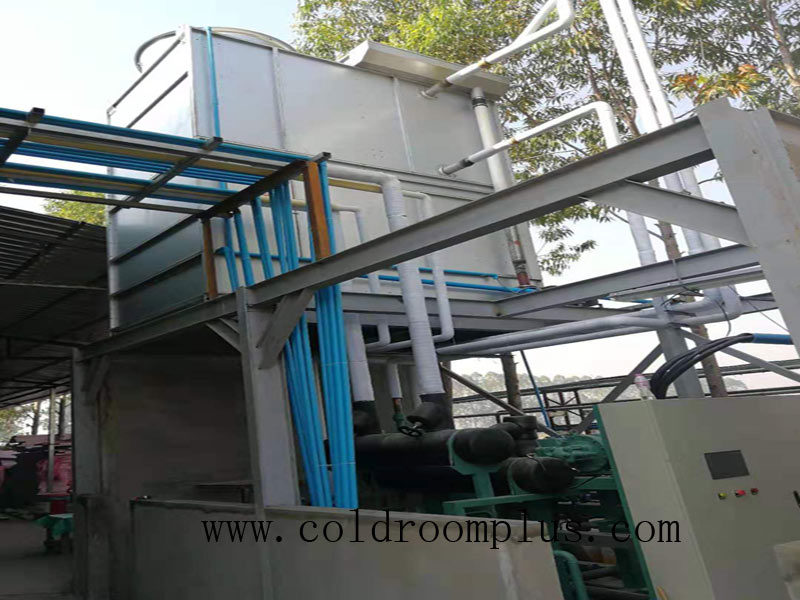 Compressor unit
Parallel system with original new Bitzer screw compressor
Integrated PLC control system: intelligent.
Automatic control system: adjust the number of working compressors automatically by the cooling capacity required in cold rooms.
Remote monitoring system: transnational debugging, online-service in the future, it is convenient and in-time after-sales service.
It is more energy saving than the single unit: because not all compressors keep working always, it can adjust automatically.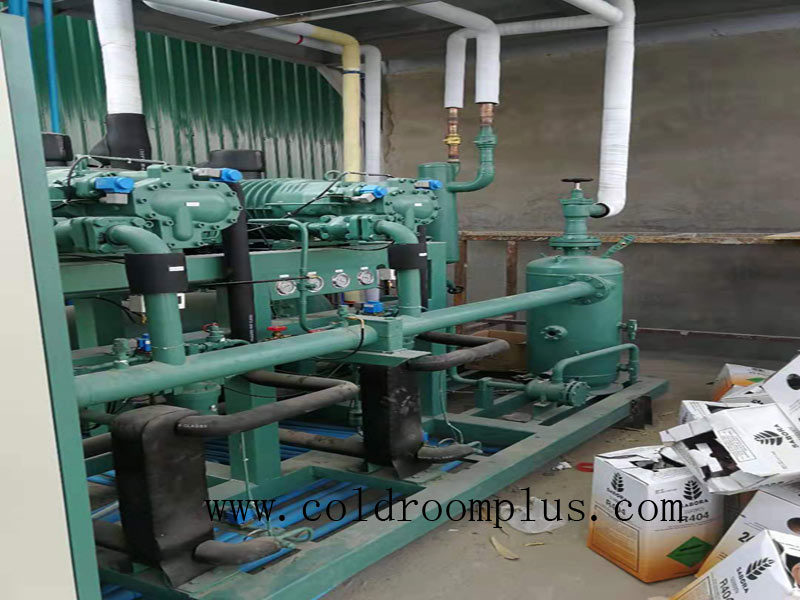 Why choose us?
OnlyKem Technology Co., Ltd. is the leading cold rooms and refrigeration unit designer, manufacturer and exporter dedicated in supplying finest quality cold rooms solutions to Worldwide customers. There are many projects in many different countries now, such as the USA, Canada, German, Australia, New Zealand, Mexico, African countries, Southeast Asia countries and so on. We have mature and advanced technology in refrigeration field, we have experienced engineers, OnlyKem aim to build our cold rooms in all countries of the World! Don't worry about quality problems, don't worry about solution problems, don't worry about after-sales service system, don't worry about warranty problems, just try to contact with us, we will have a pleasant communication!